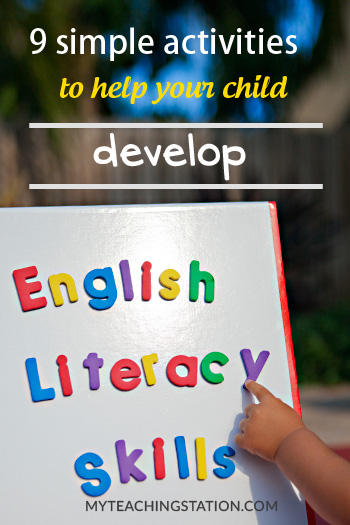 Engaging your child in literacy-building activities will boost their emergent language development and increase the likelihood of future academic success. Take advantage of these simple, yet fun activities to help your child advance in their learning.
Alphabet Scavenger hunt

Hide the upper case letters throughout the house for your child to find and match to the lower case letters board.

Alphabet back and forth

Roll a ball to your child calling out alphabet letters and ask them what is the next letter as they roll the ball back to you.

Flash cards treasure hunt

Create flashcards with CVC (consonant-vowel-consonant) words and a written glue in each card to find the next card. When your child finds a card and pronounces the word, read to them the clue to the next card. Be sure to have a reward/treasure waiting for them with the last card.

Magnet letters

Build words using magnet letters and board.

Shake the letters

Shape the dices with letters to make up words.

Flip the egg

Create rhyming words and write them in an egg shape cut-out piece of paper. Flip the eggs until you find a match.

Word race

Create a walkway with squares and a deck of flashcards with words, each time your child pronounces a word, they get to move to the next square until they get to the finish line.

Fish for words

Place fish-shape flashcards in a bowl and use a homemade net to catch each fish to pronounce the word.

Word search

Hide the ABC letters in a bowl of rice for your child to find using their hands or feet.